Skip to main content
Skip to sitemap
Skip to login
Cookie Notice
This website uses cookies to enhance user experience and to analyze performance and traffic on our website. We also share information about your use of our site with our social media, advertising and analytics partners.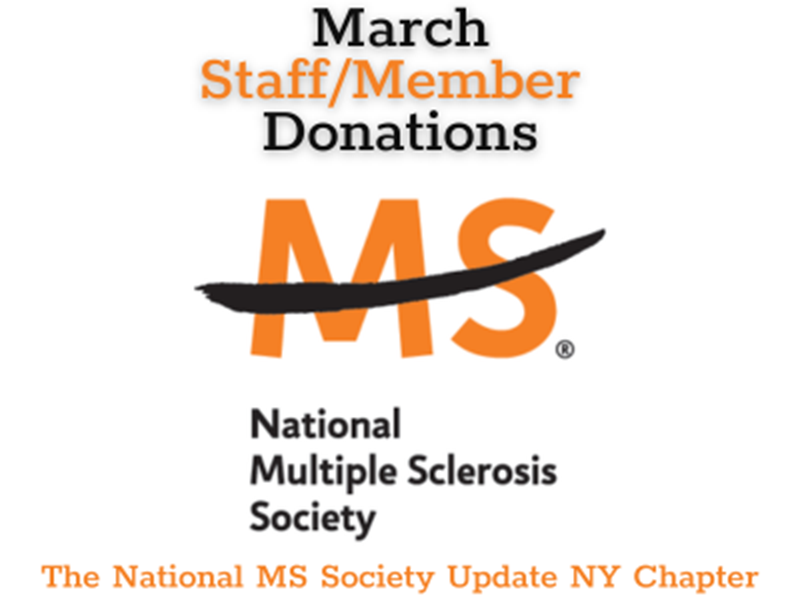 March 2023 Giving – MS Society
Our March Community Wishes/Dress Down Day Staff Donation and member contributions went to The National Multiple Sclerosis Society, Upstate New York Chapter. Great Erie raised $700 to donate to the MS Society, Upstate NY Chapter.
The Upstate New York Chapter works to improve the quality of life for people affected by MS in Upstate New York and raise funds for critical MS research. The National MS Society is working toward a world free of MS. People affected by MS can live their best lives as we stop MS in its tracks, restore what has been lost, and end MS forever.
What is MS? Multiple sclerosis is a disease that impacts the brain, spinal cord and optic nerves, which make up the central nervous system and controls everything we do. The exact cause of MS is unknown, but we do know that something triggers the immune system to attack the CNS. The resulting damage to myelin, the protective layer insulating wire-like nerve fibers, disrupts signals to and from the brain. This interruption of communication signals causes unpredictable symptoms such as numbness, tingling, mood changes, memory problems, pain, fatigue, blindness, and/or paralysis. Everyone's experience with MS is different and these losses may be temporary or long-lasting.
Taking the first steps
If you or a loved one have recently been diagnosed with multiple sclerosis, you may not know where to begin. Chances are you've never heard of MS and don't know what this means for the rest of your life. You're probably feeling overwhelmed, and even a little scared. You might also be relieved to finally know what's causing all the strange symptoms you've been experiencing. 
The good news is, no one has to face MS alone. The National Multiple Sclerosis Society is here to provide the support, resources, and information you need to move your life forward. Many people find it helpful to start by gathering the facts.  Learning as much as possible about MS can help you feel confident and in control of your health. You're not alone. The MS Society supports you with information, online programs, and one-on-one conversations with professionals. The Society also offers resources for children with MS, families affected by MS, Veterans, and those in the Black community and the Hispanic/Latinx community living with MS. Connect with the National MS Society.
Learn more at https://www.nationalmssociety.org/Chapters/NYR