Skip to main content
Skip to sitemap
Skip to login
Cookie Notice
This website uses cookies to enhance user experience and to analyze performance and traffic on our website. We also share information about your use of our site with our social media, advertising and analytics partners.
Everything you want is well within reach.
It's fine to dream about the good life. It's even a better idea to take steps toward achieving it. With a Great Erie Savings Account, you can take aim at a specific goal, build security for your family, start planning for retirement - or set the wheels in motion for doing something really special.
We make it simple to get started
By opening a Share Savings Account, you become a Great Erie member. From that moment on, you have access to all the other high-value deposit accounts, affordable loans, and other exceptional financial services that we offer.
Minimum opening deposit of $5
Earn competitive dividends
Track growth with Online or Mobile Banking
Build up balances with automatic deposits available through Direct Deposit/Payroll Savings
All saving protected by the National Credit Union Share Insurance Fund (NCUSIF), an arm of the National Credit Union Administration (NCUA)
Open an account by visiting our Orchard Park or East Aurora branch locations.
Let's make life a little more fun
You spend most of the year working hard. With Great Erie's Club Accounts, you can put smiles on a lot of faces by making the good times even better.
Holiday Club Account
Deck the halls with a lot more dazzle. By saving year-round, you'll have more money to spend on gifts, decorations, and festive gatherings when December rolls around.
Minimum balance of $5
Earn competitive dividends
Make as many deposits as you wish throughout the year
Grow your savings faster by signing up for automatic deposits through Payroll Deduction
Each Nov. 1, the money will be transferred to the Great Erie account of your choice
Automatic deposits for the following year begin immediately
A $5 fee applies for any account withdrawals
Open an account by visiting our Orchard Park or East Aurora branch locations.
Vacation Club Account
Action-packed theme parks or beautiful beaches. Luxury resorts or RV campgrounds. Whatever your vacation plans, you can travel in style when you save year-round with a Vacation Club Account.
Minimum $5 balance is required to open an account
$5 minimum balance year-round
Earn competitive dividends
Build up savings faster with automatic payroll deductions
Track your progress with Online or Mobile Banking
Open an account by visiting our Orchard Park or East Aurora branch locations.
Teaching your children about money while they're young by opening a savings account is a great way to help them mature and become financially responsible.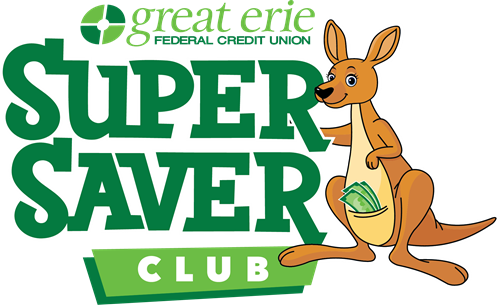 Learn. Save. Grow! 
The Super Saver Club is a savings program for kids up to 12 years of age, brought to you by Great Erie FCU.
With Billi Kangaroo, kids learn about saving and other important financial topics through educational stories, games, and entertaining activities.
Best of all, the club is fun and FREE!
Hop on over and SAVE! Become a Great Erie member and open a Super Saver Club account.