Skip to main content
Skip to sitemap
Skip to login
Cookie Notice
This website uses cookies to enhance user experience and to analyze performance and traffic on our website. We also share information about your use of our site with our social media, advertising and analytics partners.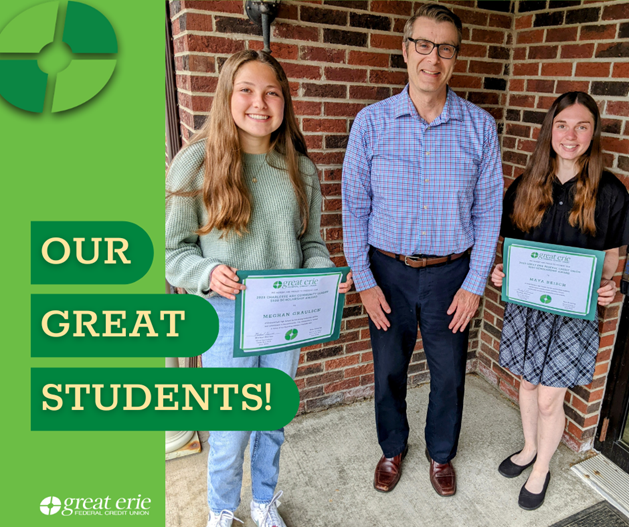 We received many great applications and are grateful to the students who took the time to apply and share their accomplishments and goals with us. Our selected scholarship winners stood out for their outstanding academic and extracurricular achievements.
Great Erie Federal Credit Union has awarded college scholarships to two local high school seniors to help finance their college education. The students, members of Great Erie, were chosen based on their outstanding academic and extracurricular achievements. These students are each receiving a $500 scholarship award.
The winner of the 2023 Great Erie FCU Scholarship is Maya Reisch of West Seneca West High School. Maya plans to attend Daemen University in the fall and will be enrolled in their physician assistant program. Meghan Graulich of Orchard Park High School was awarded the Charlotte Ash Community Leader Scholarship and will be starting in the fall at Clarkson University and enrolled in the Engineering program.
In addition to our Great Erie Scholarships, both Maya and Meghan were awarded $1,250 statewide scholarships each from the New York Credit Union Association (NYCUA).
"We are very pleased to award these scholarships to our hard-working young members," said Robyn Young, CEO. "It proves that the 'people helping people' philosophy of the credit union movement is alive and well here in Western New York.